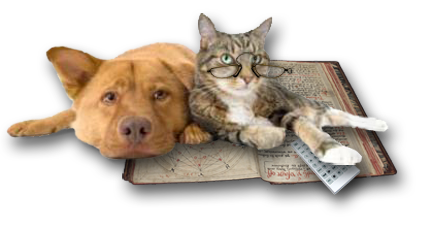 Information
Entertainment
INFORMATION
Animal Behavior
Being with Jane Goodall
– Nova's Secret Life of Scientists and Engineers.
Cat and deaf man communicate with sign language
 – TheRichest.
The Cat & The Ducklings
 – Graham D.
Cat nurses abandoned pit bull puppy
– Annette Lawless.
Dog Friendly Dog Training
 – Ian Dunbar TED Talk.
Four Black Swans Spotted Surfing in Australia
– freesurfmovies.
The Gentle Genius of Bonobos
– Susan Savage-Rumbaugh TED Talk.
Helping Humans and Animals Live Together
– Jane Goodall TED Talk.
John Oliver interviews Dr. Jane Goodall
– Last Week Tonight.
Learning From the Gecko's Tail
– Robert Full TED Talk.
Man Reunites with African Cheetah Cat
– Dolph C. Volker.
Owen and Haatchi: A Boy and His Dog
 – KarmaTube.
The Physics of Droplets
– James Gorman, The New York Times-Science.
Tansy Aspinall and the Gorillas: Reunited at Last
– The Aspinall Foundation.
What Are Animals Thinking and Feeling?
 – Carl Safina TED Talk.
What Explains the Rise of Humans
– Yuval Noah Harari TED Talk.
What These Young Guardians Can Teach Us About Ourselves
 – John Chester, Apricot Lane Farms.
Awakening – A Navajo Healing Chant Klymatic, by Jeremy Pfeiffer.
Let's Fix a Kitty – Vet Ranch.
Meet the Cat ISU Vets Outfitted with Very Rare Prosthetic Legs – ISU News Service.
What the People of the Amazon Know That You Don't – Mark Plotkin TED Talk.
What Veterinarians Know that People Don't – Barbara Patterson-Horowitz TED Talk.

The Animal Whisperer
 – Poh Si Teng, New York Times-Science.
How Wolves Change Rivers
– KarmaTube.
Koko the Gorilla Is the Voice of Nature at COP21
– Noé Ong
Animals Teach Us Mindfulness
– Kathleen Prasad, Animal Reiki Source.
Anna Breytenbach –
 (Leopard Diablo/Spirit) – Findhorn Live.
Dan Harris: Hack Your Brain's Default Mode with Meditation
– Big Think.
A Declaration of Interdependence
– Tiffany Shlain & The Moxie Institute Films.
Dying To Be Me
– Anita Moorjani TED Talk.
Everything is a Present: Alice Herz Sommer
 – KarmaTube.
Healing with Dolphins
 – The Light of Humanity interviews Mary Getten.
How I Stopped the Taliban from Shutting Down My School
– Sakena Jacobi TED Talk.
How Quantum Biology Might Explain Life's Biggest Questions
– Jim Al-Khalili TED Talk.
How to Shift Reality Jumping to Parallel Universes
– Paranormal Connection interviews Cynthia Sue Larson
The Incredible Story of How Leopard Diabolo Became Spirit
– Arjan Postman.
The Kronos Quartet as a Dot Cloud
– Graham Roberts, Cathrine Spangler, Leslye Davis and Jeremy White, The New York Times-Culture.
Rescuing Creatures for Good Karma
 – Andre Jacobs and Jonah M. Kessel, New York Times-International.
We Are Built to Be Kind
, by Dacher Keltner, University of California, Berkeley.
Animals Help Us "Be Reiki"
– Kathleen Prasad, Animal Reiki Source.
BrightHaven and Animal Reiki
– Kathleen Prasad, Animal Reiki Source.
Everything is Energy – With Deepak Chopra
– Awakening Alchemist.
Human Energy Human Power
– Deepak Chopra TED Talk
Reiki Brings Peace to Shelter Dogs
– Animal Reiki Source.
Reiki Lady – This short film gives an excellent comprehensive look at what Reiki with animals is all about. Kelly McDermott-Burns brings Reiki to animals at the Rutland County Humane Society and The Hooved Animal Sanctuary in Vermont. Her work is known and appreciated throughout the region.
Reiki Meditation for Shelter Cats – Kathleen Prasad, Animal Reiki Source.
Reiki on CNN with Carolyn Coleridge – Psychic Touch
Reiki Peace in the Barnyard – Kathleen Prasad, Animal Reiki Source.
Reiki for Pets – Tulsa Animal Shelter, by Kristen Dickerson, Good Day Tulsa.
Rescued Pit Bull Leads Animal Reiki Treatment – Kathleen Prasad, Animal Reiki Source.
Shelter Cat Gets Reiki – Kathleen Prasad, Animal Reiki Source.
ENTERTAINMENT
Dog food commercials
that could give you the giggles.
Doggie employee at KLM
steals hearts.
Klaus
, ambassador of happiness at Best Friends Animal Society.
Siberian husky plays in pile of leaves
.
Animal shelter
 promo that'll have you heading to your nearest adoption facility.
Be together. Not the same.
Black lab guards a kitty cat.
Cat and turtle are play buddies.
Chimpanzee and puma are play buddies.
Cuteness overload.
A mighty happy bunny.
Little Beasts: Classroom Chaos
– Ziplock
Unlikely Animal Pairs Defy Laws of Nature
– ABC News.
Why Don't You Love Me?
– Daily Animal
An indoor cat playland
 that'll beat anything you've seen.
Bootful 'o kitties!
Cute kittens vs. handmade fort
.
Didga the skateboarding cat
.
A dose of Christmas cuteness.
Kitten's courageous dream
 comes true
.
Mommy's little helper
with the sheets.
Nom nom time for six little kitties.
Running kitties!
Surprised kitty
.
Gray whale mom and baby
, with beautiful guitar music.
Gray whales of San Ignacio Lagoon.
Journalist loves being squished by seals!
Whales swimming under the Northern Lights
.
Lullaby to an elephant.
Peter the Elephant
 loves a good jazz duet.