Joe and Tess Together Again At Last
Joe, 8/8/2002 – 5/4/2016   ~   Tess, 8/8/2002 – 5/5/2010
Born into this life on August 8, 2002;
Beautiful of spirit and of form; Ever steadfast of courage and strength;
Holding fast to the string of a kite that was Tess,
That flew like the eagles above his head;
Joe-Joe, the Joe-Joe Boy
Passed across to the Bright Shimmering Light,
With all the wild strength and depth of heart and soul and muscle and grace,
That he held for everything he loved and loves;
At 1:50 a.m. in the early morning hours of May 4, 2016.
Sung into this life along with his twin sister, Tess ("The rain is Tess, the Fire Joe, and they call the wind Mariah" ), Joe-Joe demanded no respect, he simply expected it. Benevolent King of the household, his subjects—I and Tess, his Princess of Sweetness—were compelled of our own hearts to give it freely. He watched over us, protected us, soothed us, cherished us, inspired us, and filled us with a pride of honor to share this life with him.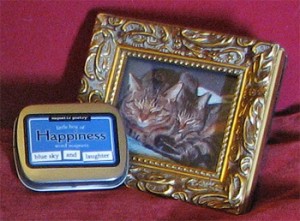 Along with Tess, The Remarkable Joe joins Cattyboy and Beckydog, of whom he knows the countless stories held throughout a time and space that is the joining of our souls. Joe joins, as well, all of the ancestors and relations of all of the ancestors and relations of those he's loved and loves.
As said to them each night, when all had come to rest, "I love my Tess, and I love my Joe, and I love our little Annie, and Cattyboy, and Beckydog. I'm so glad that we're together. And we'll always be together. Always, always, always."
Long Live the Remarkable Joe.